Discover Ontario's Authentic Log Cabin Rental Fishing Resort on Kashwakamak Lake FERNLEIGH LODGE RESORT
One of our many exclusive log cabins with all the amenities you will love!
Now receiving bookings…
Fernleigh Lodge in Canada's Land O'Lakes region of Southeastern Ontario is one of the best kept secrets for extreme bass, pike and walleye fishing, family fun and entertainment. Get back to living and discover the amazing natural beauty of Fernleigh Lodge.
We have authentic log cabins open year-round. While you're here you can enjoy the sights and sounds of nature exploring the 40 miles of rustic shoreline of Kashwakamak Lake while fishing for your trophy fish (Kashwakamak Lake formally known as Long Lake).
You'll find our lake, shoreline and islands full of fascinating discoveries. The many inlets and bays make a perfect hideaway for the some of the best small mouth bass fishing in Eastern Ontario. Check out our website for activities available for all ages.
Family owned and operated since 1981, we will make you feel right at home in one of our 15 fully furnished cabins ranging from 1 – 4 bedrooms. Our clean and cozy cabins have everything you need.
Whether you are looking to do your own cooking or eat your meal in our dining room overlooking the lake – the choice is yours. Home cooked meals are available Friday, Saturday and Sunday in the lodge and we can even plan a special cook out for you,  your family and guests.
Our single goal is for you to have a balanced, rewarding and totally enjoyable experience.  Many families and groups return every year so hurry and reserve your cabin for great fun and relaxation. Get back to living at Fernleigh Lodge.

Discover Nature at it's FinestEXPLORE PRISTINE KASHWAKAMAK LAKE
Fernleigh Lodge is located on Kashwakamak Lake in Eastern Ontario. Kashwakamak Lake is 15 miles long with 40 miles of rustic and beautiful shoreline. The average depth of the lake is 20 feet., with 5 to 7 miles of it having a depth of 40-90 feet, and one area having a depth of over 125 feet. The lake bottom consists of a mixture of rock, weed beds, sand bars, and rocky shoals. The lake is also part of the Eastern Ontario Canoe route, which stretches from Ottawa to Lake Mazinaw. Portages and points of interest are all well marked.
Our forests offer a mix of coniferous and deciduous trees in addition to natural wetlands and scattered meadows. Rivers and ponds are abundant and help make up one of world's largest sources of fresh water.
There are very few dangerous animals and the terrain is relatively safe. There are also no dangerous reptiles or insects, and no recorded cases of West Nile. Instead you'll find deer, foxes, beavers, ground hogs, porcupines, skunks and perhaps the occasional black bear.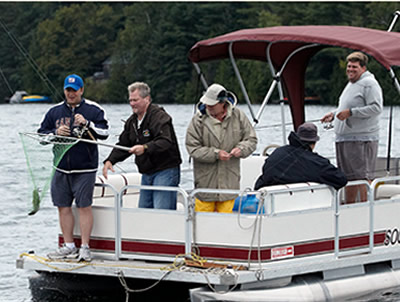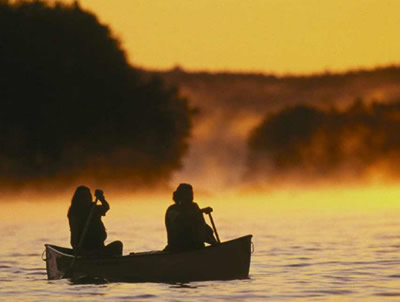 What can you do at Fernleigh Lodge?FERNLEIGH LODGE ACTIVITIES